October 16 (Lesser Feasts and Fasts 2000)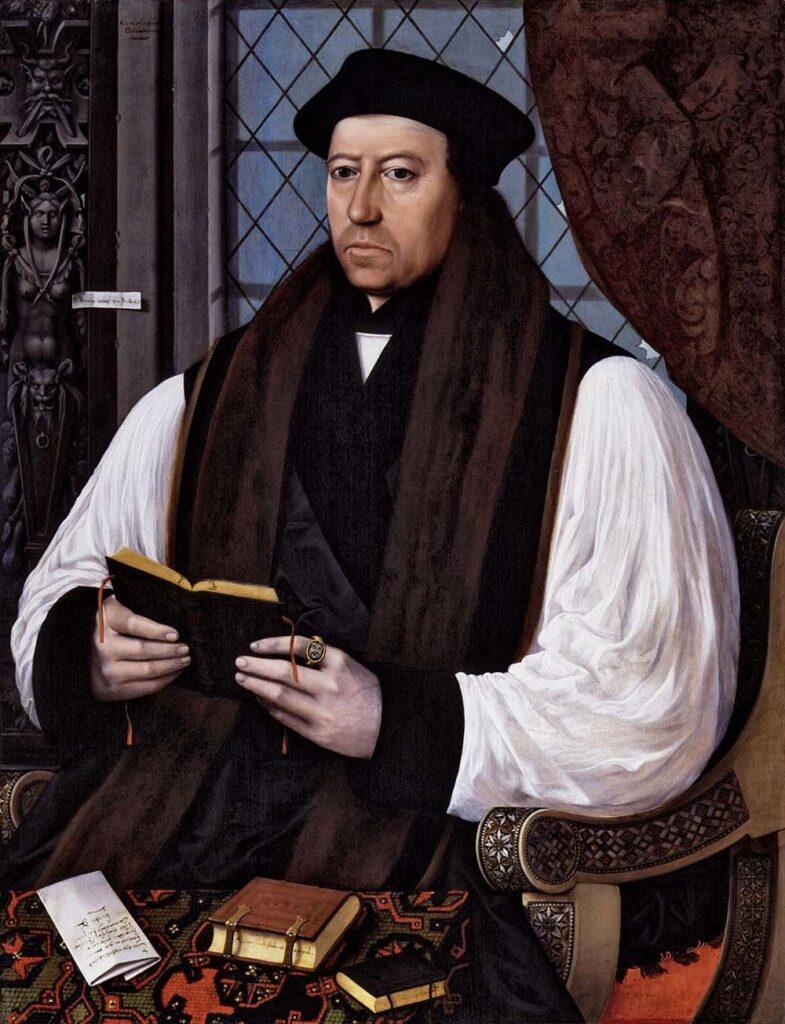 Thomas Cranmer was the principal figure in the Reformation of the English Church, and his clear, sonorous prose figured prominently in the first Book of Common Prayer of 1549 and for its first revision in 1552; much of it remains in the Book we Episcopalians still use today.
He was born at Aslockton, Nottinghamshire, on July 2, 1489. At the age of fourteen he entered Jesus College, Cambridge, where by 1514 he had obtained his B.A. and M.A. degrees and a Fellowship. In 1526 he became a Doctor of Divinity, a lecturer in his college, and examiner in the University. During his years at Cambridge, he diligently studied the Bible and the new doctrines emanating from the Reformation in Germany. While in Germany, Cranmer became closely associated with the Lutheran reformers, especially with Osiander, whose daughter he married.
When Archbishop Warham died, the King obtained papal confirmation of Cranmer's appointment to the See of Canterbury, and he was consecrated on March, 1533. Among his earliest acts was to declare the King's marriage to Catherine of Aragon null and void. He then validated the King's marriage to Anne Boleyn. Her child, the future Queen Elizabeth the First, was Cranmer's godchild. In the reign of Edward the Sixth, Cranmer had a free hand in reforming the worship, doctrine, and practice of the Church. But at Edward's death he unfortunately subscribed to the dying King's will that the succession should go to Lady Jane Grey. For this, and also for his reforming work, he was arrested, deprived and degraded by Queen Mary the First, Catherine's daughter and a staunch Roman Catholic. Cranmer wrote two recantations of his supposedly heretical doctrines during his imprisonment, but at the end he recanted his recantations, and died heroically, saying "forasmuch as my hand offended in writing contrary to my heart, therefore my hand shall first be punished; for if I may come to the fire, it shall first be burned." And so it happened at Oxford on March 21, 1556.
Keep us, O Lord, constant in faith and zealous in witness, that, like your servant Thomas Cranmer, we may live in your fear, die in your favor, and rest in your peace; for the sake of Jesus your Son our Lord, who lives and reigns with you and the Holy Spirit, now and for ever. Amen